It was during a gig in Austin with Rock & Roll Hall of Famer Chris Hillman that David Bromberg was lured back to recording. Killing time in the dressing room with Hillman, the founding member of the Byrds, Flying Burrito Brothers and Desert Rose Band, and his friend Herb Pederson, the talk turned to the legendary Reverend Gary Davis, who had schooled Bromberg during the Greenwich Village Folk Scare of the 1960s and early 1970s.
"We were talking about where we'd started, and when I mentioned the Reverend," Bromberg recalls during a phone interview with the Gazette from a gig in Willets, Calif. "They lit up, and told me, 'You ought to be doing those songs! There aren't many people out there left who know that music, let alone people who learned from him.'"
Bromberg's career is long and varied. He collaborated early on with Bob Dylan (producing), George Harrison (co-writing), Jerry Jeff Walker (session man) and Carly Simon (he helped her make her first demos). He made a mark on others' music without making it about him, whether he was playing dobro, guitar or violin.
Hillman, a man of unwaveringly high standards, is effusive. "David, a standup guy, is a multi-talented musician who's a credit to all who play music," he said. "He carries on the traditional blues and country style, and is our resident musical historian, as well as an awesome guitarist."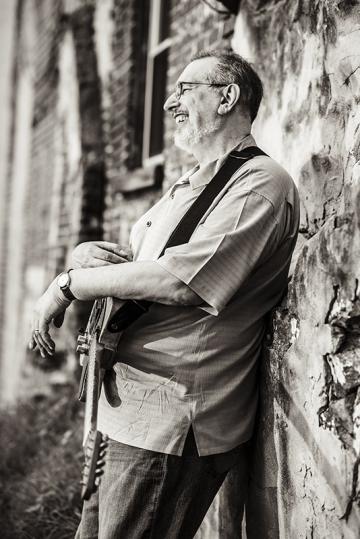 David Bromberg got his start in Greenwich Village with Reverend Gary Davis.
— courtesy MV Concert Series
Ever humble, Bromberg marvels that what was merely his life has now become a matter of some historical significance.
When Bromberg and his quintet — guitarist Mark Cosgrove, fiddler Nate Grower, drummer Josh Kanusky and bassist Savek Zaniesienko — open the Martha's Vineyard Concert Series, performing at the Old Whaling Church on July 9, that organic history will be on full display. Lived and learned at the source, the Columbia University dropout has been steeped in his influences at their source.
"I was walking down Bleeker Street, and there was a sign in front of a bar called the Dragon's Den," he remembers. "It said, 'Reverend Garey Davis, This Afternoon.' So, I paid my money, went in, watched the show, which was fabulous." Approaching the blind blues musician about lessons, Bromberg was told: "Five dollars. Bring the money, honey." And so began a deep friendship. "It could take all day," Bromberg says. "He had incredible patience. He'd play something, then slow it down so you could pick it up. He'd let people tape record their lessons, the ones who thought of it. Annie, his wife, would make lunch, and you'd just be there." Bromberg has the same generosity of spirit for those who followed. When he made his 201X Use Me album, he invited a broad range of artists from John Hiatt and Los Lobos to Vince Gill and Dr. John, Linda Ronstadt to Keb Mo' to join him on the ragtag collection of jewels.
For Widespread Panic, being included in the project was the source of great pride. Among the various well-loved vinyl records at Widespread Panic's first band house was a copy of Demon in Disguise. "It was one of our sacramental record, and from it, we swiped his tune Sharon, which still shows up on our set lists from time to time," says Panic's bass player Dave Schools. "And then he performed Sharon and our Old Neighborhood with us at the Pepsi Center in Denver, the New Year's Eve just after we recorded together. He held that immense arena in the palm of his hand."
A bit the Zelig, Bromberg can tell you about meeting George Harrison at Columbia Recording Studios, where the once Beatle knew exactly who he was.
"He sang me one of my own songs, and I asked him where he learned it. He said, 'Dylan taught me,'" he recounts as just another fact of his day.
The pair would later go on to write The Hold Up at a friend's Thanksgiving dinner. Bromberg would also craft the iconic guitar part on Jerry Jeff Walker's version of Mr. Bojangles, ultimately a hit for the Nitty Gritty Dirt Band and a standard for the multi-instrumentalist's own live shows.
"It's just so much fun to play," he says of his often seven-minute versions. "I started and couldn't stop."
There was a time when that joy was threadbare. Having spent two years continually touring with just two weeks off, Bromberg was lost. "I was too stupid to realize I was burned out, but I knew I
didn't want to become a bitter imitation of doing something I used to love." Crowds were growing in the late 1970s and his records — in spite of the lack of an obvious genre to align him with — were finding solid midlevel charts success. But Bromberg knew better: he quit. Facing the inevitable "identity crisis," he went to violin building school. Then he and his wife Nancy Josephson opened a violin sales and repair shop in their now home of Wilmington, Del. As someone educated in the craftsmanship and design, Bromberg can identify and appraise violins. It was a new phase of life, one that suited him. Until someone suggested jam sessions to bring the city's music scene back to life.
"I don't assume anyone I meet will know who I am," he says modestly. "When I agreed to do it, I didn't know. But good musicians started showing up, some having travelled a long way. And once I started playing with great musicians, it got me wanting to play again."
The humility makes it all seem so simple. But this is a man to take very seriously. Once, when Bromberg was playing at the Gaslight, the Reverend Gary Davis, who'd decided to have the younger musician pay for his lessons by leading him to preach or perform, arose after Bromberg had played one of his songs and told the crowd: "I have no children, but I have sons," he said referring to Bromberg and another student.
Stories like this are just layers of tissue paper in a box of very fine memories. Bromberg offers them the same way he offers his songs: with heart and with a sense that they will please those who love music. But to him, it's not the memories that matter as much as what's before him.
"I'm always looking forward," he confesses, tracing the arc of his priorities. "I've never really been interested in overviews. I don't want a picture of the forest. I enjoy being the tree."
The David Bromberg Quintet performs at the Old Whaling Church in Edgartown on Monday, beginning at 8 p.m. For tickets and information about the Martha's Vineyard Concert Series, visit mvconcertseries.com.
Source link