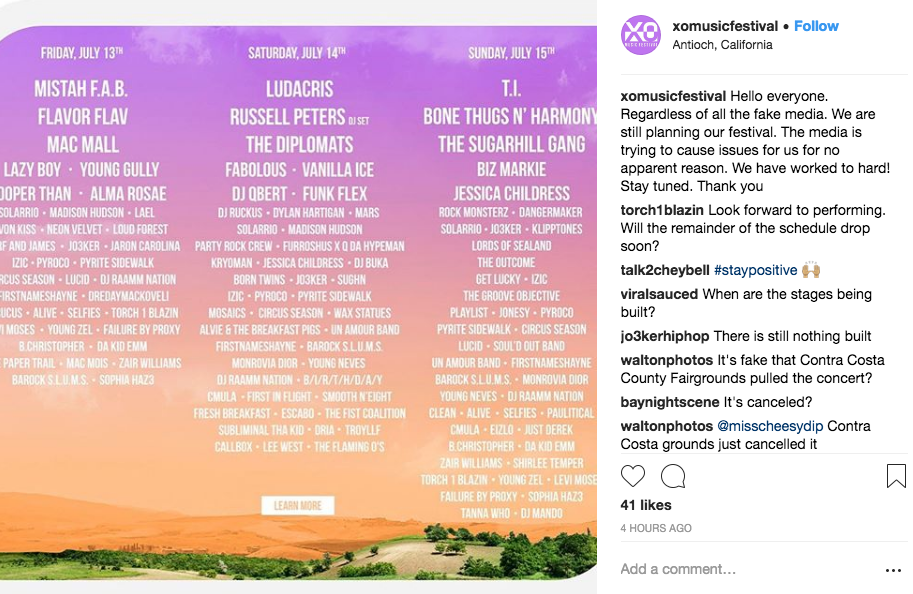 Photo: Screenshot Via Instagram

The XO Music Festival, a three-day concert series that anticipated bringing 10,000 fans to the Contra Costa Event Park, seemed to many to be too good to be true. Its glamorous website boasted foam pits, indoor skating rinks, stilt-walkers and headliners like Ludacris and T.I., an incongruous scene for a few dry fields in Antioch.
But with two days to go until its opening act — and reportedly little done by way of event set-up — there will be no such festival. On Wednesday, Contra Costa Event Park officials announced they were canceling the event, which they said did not fulfill "contractual obligations."
Meanwhile, the XO Festival staff maintain the show will go on … someday.
"Today we are deeply disappointed to have to announce that due to lower than anticpated [sic] ticket sales and in part due to the fact that there were some negative media reports targeting us, with which we strongly disagree, the XO Music Festival scheduled to occur on July 13 will be postponed to another time to be announced at a future date," the organizers wrote in an official statement.
Regardless of whether or not the festival gets rescheduled, here are all of the things we're sad we won't be able to experience this weekend:
— The enforcement protocol for the rule "GOOD VIBES ONLY – NO BAD ATTITUDES WILL BE TOLERATED!" on their official entry information page.
— Models. The promotional video continually promises models.
— The official lineup said the cast of MTV's infamous "Jersey Shore" would be there. Which members? Was Snooki really coming to Antioch? The questions linger.
— We were robbed of another incredible quote from rapper Vanilla Ice's representative, who told The Chronicle: "We are requesting full payment for Vanilla Ice before he gets on a plane."
— The "crazy games" at the "carnival area." Crazy games not specified.
— We will never know the privilege of participating in the VIP colored powder-throwing "arena" and maybe getting a good powder shot in at The Situation. We will also never know why this was considered a VIP-only amenity.
— The showers promised for VIPs leaving the color arena. What could those possibly have looked like? Have-nots were also denied the possibility of seeing the haves washing themselves off with a hose.
— Seeing headliner Ludacris perform at 4 in the afternoon in blazing-hot Contra Costa County.
— The art. We'll let the XO Festival website speak for itself on that one: "Art is beautiful and scattered throughout the XO music festival grounds will be many mesmerizing art installations by visionary artists showcasing and creating their amazing works of art."
Source link