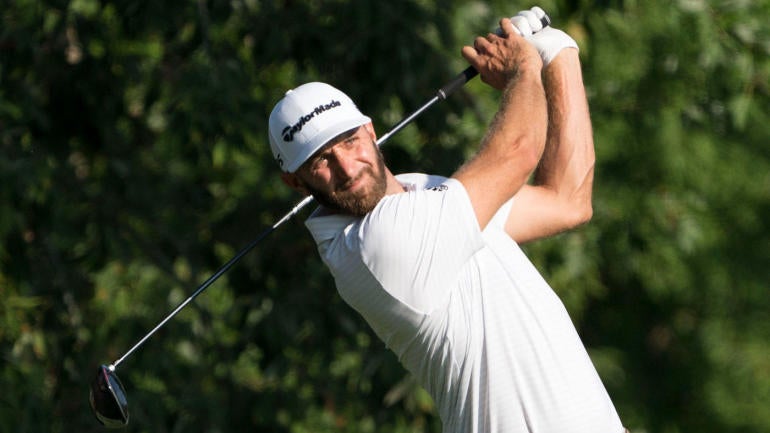 Dustin Johnson is in prime position to make a run at his first PGA Championship and second major win after one of the best Thursday-Friday starts in his career.
DJ followed up his 67 on Thursday afternoon with a 66 on Friday morning, leaving him 7-under for the championship. According to the great Justin Ray of Golf Channel, that 133 score is Johnson's best thru 36 holes at a major championship.
The World No. 1 golfer needed another low score to stay in the hunt on Friday as Gary Woodland pushed the lead to double digits under par. Johnson and Brooks Koepka, who fired a 63 on Friday and sits one shot ahead at 8-under, will enter Saturday as the top two candidates to chase down the leaders — that is, if Woodland's lead is not bested by the end of the day.
Coming off the U.S. Open, it's worthy to question whether DJ can sustain this success not only into Saturday but through the final round on Sunday. Terrific putting helped anchor his 36-hole success at Shinnecock Hills, and when conditions worsened on the weekend, Johnson's putting regressed to the mean and he could not keep pace with Koepka. It's worth noting, of course, that average putting on the weekend still left him with a solo third-place finish in the championship.
Johnson's work on the greens has been pretty good through two rounds, but the putts that have stood out were the tough par saves that broke up the three-in-row, or five-in-six-hole birdie runs. He's one of the leaders in the field in driving distance but has had to grind through some misses as well.
Golf can look very easy for DJ when everything is rolling, but it hasn't been all easy through two rounds. The fact he's logged his best-ever 36-hole start at a major without his top-notch stuff is why he's going to remain one of the favorites going into the weekend.
Source link