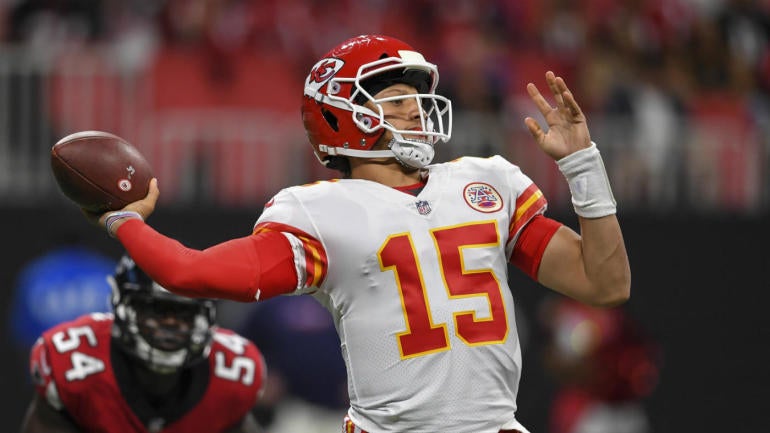 Week 3 of the preseason is typically when teams play their starters for the first half, and sometimes even a few series into the third quarter. But not every coach has subscribed to that strategy in 2018; Aaron Rodgers didn't see the field on Friday night and Derek Carr led a single drive before heading for the bench.
It's more of the same Saturday as the Bears rested many of their starters, including second-year quarterback Mitchell Trubisky. But there are still plenty of reasons to tune in; Chicago faced Kansas City and Patrick Mahomes, who has a chance to be one of the NFL's most exciting passers this season. In Los Angeles, the upstart Rams play host to the Texans (by the way, they're our favorites to win the AFC South) and Deshaun Watson, who is close to 100 percent after suffering an ACL injury last November. And across town, the Chargers face the Saints, where rookie first-rounder Marcus Davenport will make his preseason debut.
You can check out the updates, highlights and scores from Thursday's and Friday's games right here. Meanwhile, just keep scrolling to follow all of Saturday's action.
Scores, schedule
Saturday
Chicago 27, Kansas City 20 (box score)
Houston at L.A. Rams, 4 p.m. ET (GameTracker)
Tennessee at Pittsburgh, 4 p.m. ET, NFL Network (GameTracker)
San Francisco at Indianapolis, 4:30 p.m. ET (GameTracker)
Atlanta at Jacksonville, 7 p.m. ET (GameTracker)
Baltimore at Miami, 7 p.m. ET (GameTracker)
New Orleans at L.A. Chargers, 8 p.m. ET, CBS (GameTracker)
Sunday
Cincinnati at Buffalo, 4 p.m. ET, FOX (GameTracker)
Arizona at Dallas, 8 p.m. ET (GameTracker)
Thursday recap
Cleveland 5, Philadelphia 0 (box score)
Friday recaps
Denver 29, Washington 17 (box score)
Carolina 25, New England 14 (box score)
N.Y. Giants 22, N.Y. Jets 16 (box score)
Detroit 33, Tampa Bay 30 (box score)
Minnesota 21, Seattle 20 (box score)
Oakland 13, Green Bay 6 (box score)
Andrew Luck finds the end zone, finally
In the single best sign of the preseason for the Indianapolis Colts, Andrew Luck finally found the end zone. Luck struggled through his first two preseason contests, completing only 12 of 22 passes for 114 yards and an interception against the Seahawks and Ravens.
In the team's dress-rehearsal game against the 49ers, however, Luck found his stride. After a few drives that sputtered quickly into punts, Luck led the Colts on a 10-play, 75-yard march to the end zone to take a 7-0 lead — a drive that ended with Luck finding new tight end Eric Ebron up the seam for his first touchdown pass since January, 1 2017, in what was the final game of the 2016 regular season.
Luck didn't exactly fire a strike in there to Ebron and he still has not shown much ability or willingness to push the ball too deep down the field, but a 15-yard touchdown toss between the safeties does quite nicely for progress. Luck sucked the linebackers up near the line of scrimmage with a nice play-fake, whipped his head around and found the open man right away. That's everything you can ask for from a quarterback in the red zone, and a strong sign for Luck's ability to rebound this season.
He'll have to prove he can stay healthy and do all the things he used to do in order for the Colts to really feel good about having their franchise player back, but we're talking about a guy who has played just three games in over 500 days, so baby steps will do just fine for now.
Ndamukong Suh lays out Deshaun Watson, forces interception
If the Texans are going to have any chance to return to the playoffs after managing just four wins a season ago, Deshaun Watson will have to play at the same level he did through six starts as a rookie. He has recovered from a November ACL injury, and has looked sharp through most of the preseason, but Houston's offense got off to a slow start Saturday in Los Angeles against the Rams.
The Texans went three-and-out on their first drive, and on the fourth play of drive No. 2, Watson was flushed out of the pocket, scrambled to his right, and took a HUGE hit from Ndamukong Suh as he uncorked a deep pass intended for Bruce Ellington that was intercepted by cornerback Lamarcus Joyner.
Worth pointing out repeatedly as the regular season approaches: The NFL's best player, Aaron Donald, is currently holding out and the Rams defense is still insanely good. Suh, who signed a one-year, $14 million deal in the offseason, is still damn-near unblockable, and it won't get any easier for opposing offenses when Donald returns.
We're praying for you, rest of the NFC West.
Watson played one more series before he was replaced by 2012 Browns first-round pick Brandon Weeden, who promptly threw an interception to Sam Shields:
Big Ben makes preseason debut, Steelers offense looks to be in midseason form
Ben Roethlisberger didn't play in the Steelers' first two preseason games but he was on the field against the Titans on Saturday and he looked just like the Pro Bowl quarterback who led the team to 13 wins a season ago. In two first-quarter drives, Big Ben was 8 of 13 for 87 yards, including this 32-yard touchdown pass to former Titans second-round pick Justin Hunter, who joined the Steelers before the 2017 season:
Roethlisberger made it look easy over the first 15 minutes, and it was without Le'Veon Bell (holdout) and Antonio Brown (precautionary). James Conner caught three passes for 29 yards and JuJu Smith-Schuster added three catches for 21 yards. Smith-Schuster also dropped a pass that may have gone for a touchdown.
Patrick Mahomes continues to impress on Chiefs' first drive vs. Bears
There were some concerns this offseason when the Chiefs shipped Alex Smith to Washington and in the process elevated 2017 first-round pick Patrick Mahomes to the top of the depth chart. Mahomes played in just one game as a rookie, a meaningless Week 17 matchup against the Broncos.
But if this preseason is any indication, the Chiefs offense will be just fine under Mahomes' leadership. Last week, he was 8 of 12 for 138 yards and one absolutely absurd touchdown bomb, and on his first series Saturday against the Bears, he looked every bit the franchise quarterback the Chiefs envisioned when they drafted him.
Not hurting: Kansas City's offense is loaded. Tyreek Hill got things started with this 28-yard gain on the Chiefs' very first play.
Mahomes also targeted Sammy Watkins and Travis Kelce on the five-play drive that culminated in a 19-yard touchdown throw to Kareem Hunt, who outran the Bears to the end zone.
Alex Smith consistently excelled in Andy Reid's offense, even if he wasn't particularly flashy. Mahomes is 12 years younger than Smith and he's bound to make more mistakes, but his arm strength, athleticism and play-making abilities make him imminently more dangerous in an already explosive Chiefs offense.
The Chiefs first-team offense managed just three more points on the day, even though it played through most of the third quarter.
Mahomes finished 18 of 24 for 196 yards, no turnovers, and a passer rating of 112.5 and Hill led the team with eight catches for 88 yards.
The Rams are playing with fire at the backup QB spot
The Rams have to feel pretty good about their starting quarterback after the way Jared Goff played last season. In Sean McVay's first year in charge of the offense, Goff saw his performance spike in every meaningful passing category, and he ended up throwing for 3,804 yards with 28 touchdowns and only seven interceptions, while leading the NFL in both yards per completion and adjusted net yards per attempt (a weighted average that rewards first downs and touchdowns while penalizing sacks and interceptions).
Even if Goff regresses a bit to the mean in Year 3, the Rams should get strong play at the league's most important position. McVay's scheming, the offensive line, and the presence of weapons like Todd Gurley, Robert Woods, Brandin Cooks, and Cooper Kupp should be enough to ensure that. But if something should happen to Goff, the Rams would be in trouble.
Goff's backup is fourth-year man Sean Mannion, who has not exactly showered himself in glory throughout his career. Saturday was the latest instance of him struggling, as he completed 11 of 17 passes for just 68 yards (4.0 per attempt) with a touchdown and a bad interception in the first half against the Texans.
Mannion has not had much of an opportunity to show what he can do during regular season games, but he has thrown nearly 300 passes if you include the preseason. His performance has left a lot to be desired. In regular season games he is 31 of 50 for 235 yards (4.7 per attempt) and a pick, good for a passer rating of just 65.0, which as you probably know, is not great.
His preseason performance has not been much better. On 239 preseason pass attempts, Mannion has just a 59.8 completion percentage and a 78.5 passer rating. Considering he's been playing mostly against second and third-string defenses throughout his preseason career, that cannot be considered a very good sign.
The Rams are a team with designs on a Super Bowl in 2018, and while Goff is not the team's best player, he is one of the most important. The Rams would be wise to seek out an upgrade at the backup spot so that their season cannot be torpedoed by an injury to Goff. The cost will likely be lower for them between now and then, than it would be if Goff were to suffer such an injury and they only then went searching for a replacement.
Chiefs first-team defense struggling against Bears backups
Meanwhile, the Chiefs first-team defense has been terrible. Facing Chicago's second-team offense, Kansas City allowed touchdowns on the first two series. The first score came after a missed tackle in the backfield that allowed running back Benny Cunningham to walk into the end zone untouched.
And following a fourth-down penalty against the Chiefs that brought the Bears offense back on the field on the second drive, backup Chase Daniel found Kevin White, who couldn't have been more open, for a 29-yard touchdown.
That grab put the finishing touches on a nine-play, 77-yard drive. White, the 2015 seventh overall pick, has played in just five games in three years due to injuries, but could be in line for a breakout season in Matt Nagy's offense, if he can stay healthy.
Things didn't get any better as some of the Chiefs starters were replaced on drive No. 3. Daniel, looking more like Jim McMahon than a career backup, led another touchdown drive, this one covering 91 yards in seven plays, 70 of which came courtesy of Javon Wims, who did this:
To set up this:
For an idea of just how bad it's been for the Chiefs, Daniel had a perfect 153.8 passer rating in the first quarter, which included just the first two scoring drives.
Source link