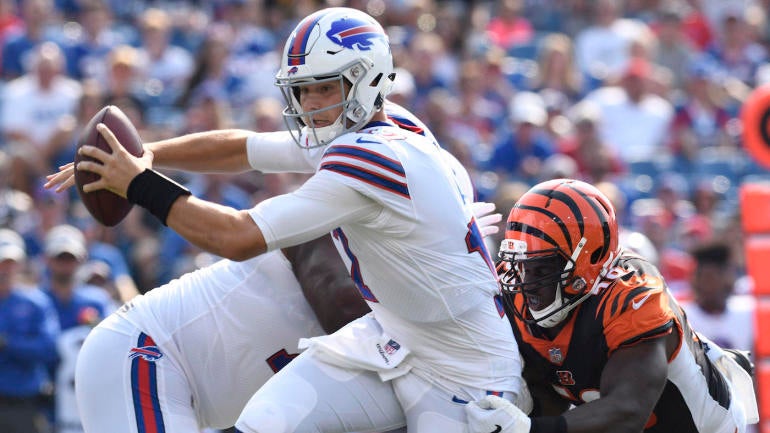 The dress rehearsal — maybe the only dress rehearsal on the planet that's televised for millions of viewers to consume — is almost over.
On Sunday, the most meaningful week of the preseason concludes with two final games, the first of which features the most intriguing quarterback battle of the summer, the second of which gives us another look at a highly touted rookie quarterback who is stuck at No. 2 on the depth chart. On Sunday, Week 3 of the NFL preseason ends with Bengals-Bills and Cardinals-Cowboys.
Will Josh Allen win the Bills' starting job over Nathan Peterman? How will the Bengals, Cardinals, and Cowboys look in their dress rehearsal for the regular season? Will Josh Rosen make a last-second push for the Cardinals' starting job?
You can check out the updates, highlights and scores from Thursday's, Friday's, and Saturday's games right here. Meanwhile, just keep scrolling to follow all of Sunday's action. We'll be bringing you the important takeaways as they happen throughout the afternoon and evening, so stay tuned.
Scores, schedule
Sunday
Cincinnati 26, Buffalo 13 (box score)
Arizona at Dallas, 8 p.m. ET, NBC (GameTracker)
Thursday recap
Cleveland 5, Philadelphia 0 (box score)
Friday recaps
Denver 29, Washington 17 (box score)
Carolina 25, New England 14 (box score)
N.Y. Giants 22, N.Y. Jets 16 (box score)
Detroit 33, Tampa Bay 30 (box score)
Minnesota 21, Seattle 20 (box score)
Oakland 13, Green Bay 6 (box score)
Saturday recaps
Chicago 27, Kansas City 20 (box score)
L.A. Rams 21, Houston 20 (box score)
Pittsburgh 16, Tennessee 6 (box score)
Indianapolis 23, San Francisco 17 (box score)
Jacksonville 17, Atlanta 6 (box score)
Baltimore 27, Miami 10 (box score)
New Orleans 36, L.A. Chargers 7 (box score)
Josh Allen gets demolished in first start
After an impressive second preseason outing, Josh Allen earned the start on Sunday. It was his chance to win the starting job over Nathan Peterman and AJ McCarron. All he needed to do was submit another encouraging outing.
Instead, Sunday afternoon ended up being a nightmare for Allen and the Bills' first-team offense. The nightmare ended with Allen in the locker room as he got evaluated for a head injury. Allen would be cleared to return by doctors, but when the second half started, it was Peterman under center.
Under siege from the Bengals' stacked defensive front, Allen went 6 of 12 for 34 yards (2.8 YPA) and a 56.3 passer rating. He was sacked five times and finished with more yards lost on sacks (39) than yards gained on completed passes (34). At halftime, the Bills offense as a whole was averaging 2.6 yards per play.
His outing ended late in the first half when he endured a hard, but legal hit and his head slammed off the turf. For some reason, even though Allen's head clearly bounced off the ground, even though Allen held his head immediately after hitting the ground, Allen was allowed to stay in the game for another play before getting subbed out and heading back to the locker room.
Here's the hit:
To be clear, it's difficult to blame Allen alone for his horrific performance. Geno Atkins and Carl Lawson — 2.5 sacks, by the way — and the rest of the Bengals' defensive line overpowered the Bills' offensive line on nearly every dropback. For much of the first half, Allen was scurrying to buy time and enduring hard hits. In terms of his pocket mobility, he actually looked good in flashes, using his athleticism to escape pressure. Nobody, including his receivers, who dropped multiple passes, really helped Allen out there.
The problems extended beyond just Allen, but Allen also deserves some of the blame. He was often inaccurate with his throws and seemingly slow to find open receivers downfield, which contributed to the high sack total. Allen didn't get any help, but he didn't really help himself that much either.
Due to the ineffectiveness of the offensive line, it's difficult to judge Allen's performance and readiness. Then again, this might be an issue all season long considering the state of the Bills' offensive line. Whoever ends up winning the starting job will likely receive subpar protection over the course of the season. And the Bills' receiving corps remains underwhelming.
The flip side of this is that the Bengals' defensive front looks downright scary and should terrorize quarterbacks all season long.
Nathan Peterman effective once again
Allen threw for 34 total yards in the first half. Peterman needed one series in the second half to eclipse that mark.
On the Bills' first possession of the third quarter, Peterman went to work against the Bengals' defense, leading a 10-play, 79-yard drive, during which he completed three passes that gained more than 15 yards. The drive ended with this 17-yard touchdown.
Statistically, Peterman's been the best Bills quarterback this preseason. Through the first two games, he went 17 of 20 for 231 yards (11.6 YPA), two touchdowns, one pick, and a 127.3 passer rating. His success continued Sunday when he completed 16 of 21 passes for 200 yards (9.5 YPA), one touchdown, no interceptions, and a 121.1 passer rating.
Unlike Allen, Peterman was provided with actual pass protection. Unlike Allen, Peterman didn't face the Bengals' scary defensive front. These things need to be noted. But Peterman's performance likely complicates the Bills' quarterback situation. At this point, given the state of their offensive line, they might prefer to play Peterman so their first-round pick doesn't get destroyed so early in his career. And if they do pick Peterman, they'll be picking the quarterback who's played the best this preseason.
Andy Dalton, Bills fans thank each other
In one of the best moments from the 2017 season, Bengals quarterback Andy Dalton broke the Bills' lengthy playoff drought by throwing a late touchdown pass that simultaneously defeated the Ravens and punched the Bills' ticket to the postseason. To thank Dalton for his help in making the impossible possible, Bills fans flooded Dalton's foundation with donation after donation after donation while the Bills offered to send the Bengals some free wings.
So, on Sunday, when the two sides met in Buffalo, it was Dalton — the visiting quarterback — who received a very loud ovation from the Bills fans in attendance.
For what it's worth, the Bengals can move on from Dalton and his contract without suffering any big financial consequences. Just in case the Bills eventually want to make their love for Dalton official.
Bills fans appear to be open to the idea.
Dalton comes out red-hot
If the third week of the preseason is the dress rehearsal, the Bengals should feel damn good about where their offense is at heading into the regular season. The Bengals' first-team offense rolled until they got yanked with a little more than 5:30 remaining in the first half.
Dalton went 11 of 16 for 180 yards (11.3 yards per attempt), two touchdowns, no picks, and a 145.8 passer rating. He wasn't sacked. It's difficult to find an area that he struggled in.
With Dalton at the helm, the Bengals scored two touchdowns on their first three series. Second-year receiver John Ross, who did absolutely nothing in his rookie season, exploded for a huge touchdown (more on that below). And then on their third series, Dalton hit his favorite target, A.J. Green, for a 14-yard score to cap a six-play, 46-yard drive.
Dalton would lead the Bengals to one more scoring drive that ended with a field goal before handing over the reins to backup Matt Barkley. Meanwhile, Green finished with 50 yards on four receptions. Also important: Oft-injured tight end Tyler Eifert got some reps with Dalton, catching an 11-yard pass.
The Bengals used the ninth-overall pick on receiver John Ross a year ago. Ross proceeded to play in three games, catch zero passes, gain 12 total yards, and score zero touchdowns.
On Sunday, Ross reminded everyone why the Bengals drafted him a year ago. He's a home-run threat with incredible speed and superhuman jukes. On the Bengals' first offensive snap, Dalton hit Ross for a 57-yard touchdown down the right sideline. The route was impressive and the moves after the catch were mesmerizing.
Take a look:
If the Bengals get Ross rolling opposite of A.J. Green, their offense could be special.
Then again, on the Bengals' fourth series, Ross dropped an easy slant on third down. Given his speed, Ross could've ran a long ways after making the catch. At the very least, he had a first down. Instead, he dropped it.
Cordy Glenn suffers shoulder injury
One area of concern for the Bengals: Left tackle Cordy Glenn, who arrived via trade with Buffalo this offseason, left the game with a shoulder injury. Glenn's one of the best left tackles in football, which is why the Bengals moved from the top half to the bottom half of the first round to acquire him, but he's played in only 17 games over the past two seasons.
Source link