Written by
Divya Goyal
| Ludhiana |

Updated: September 13, 2018 3:26:10 am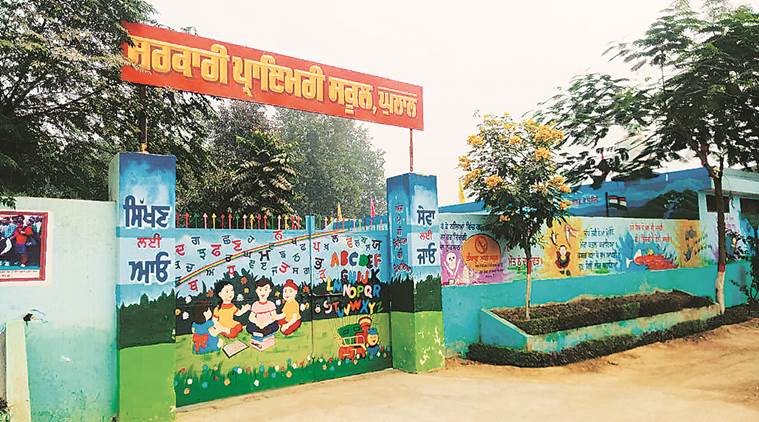 The entrance of the school in Ludhiana. (Express)
A protest by the head teacher of a government primary school in Ludhiana's Ghulal village and firm support by the secretary school education Punjab has saved the building of the school from being razed. A land acquisition notice was issued by the National Highway Authority of India (NHAI) to vacate the school building within three months.
NHAI had planned to build a toll plaza barrier at the school site after razing it for the ongoing widening of Ludhiana-Chandigarh six-lane highway. Now, as per the latest development, the school building has been excluded from the building plan.
One of the 'smart' government schools in the state with at least Rs 27 lakh spent on it by villagers and NRIs, the head teacher Sanjeev Kalyan refused to vacate the school building and took up the matter with officials from the lowest to the highest level. From writing letters to holding several meetings, Kalyan's efforts finally paid off after secretary school education Krishan Kumar intervened and directed deputy commissioner Ludhiana to save the school and shift the toll plaza site.
Speaking to The Indian Express, Kalyan said, "Since NHAI officials visited our school in August first week, I was having sleepless nights. Five years of hard work was being razed in a minute. Since 2013, we are working to make it a smart school and better than private schools. At least Rs 27 lakh were spent by NRIs and other donors to revamp the school building, make smart classrooms, install computers, education park and library. It wasn't an option to keep quiet and let NHAI raze our school. I had no other place to make 102 children sit, that too, after seeing a model school being razed. The land of our school is also donated by villagers, it is not owned by the government. So, villagers were also very angry and refused to provide any other piece of land for a new building."
Speaking on the support he got from the secretary education, Kalyan said, "From block primary education officer (BPEO) to district education officer (DEO) and then sub-divisional magistrates (SDMs) and finally the secretary education, I did not give up. I heaved a sigh of relief after secretary education Krishan Kumar assured me that he will save the school building. He wrote a letter to deputy commissioner Ludhiana in front of me. It was a big thing for us that our hardwork was being recognised," he said.
"In no way we could have let NHAI raze the school, which is one of the model schools of Punjab. We gave example of this school to other teachers. They are having smart classrooms and other facilities for children. We took matter on priority basis with district administration who further took up with NHAI," Kumar said.
Damanjit Singh Mann, SDM west Ludhiana cum land acquisition collector for the project, confirmed that school building has been excluded from the plan. "Earlier they were issued a notice under section 3(a) of Land Acquisition Act, but after receiving a letter from secretary education, we have filed objections under section 3(d) and now school land won't be acquired. However, school's boundary wall will be razed for which we have paid Rs 37 lakh compensation to education department," Mann said.
Start your day the best way with the
Express Morning Briefing
For all the latest Ludhiana News, download Indian Express App
Source link