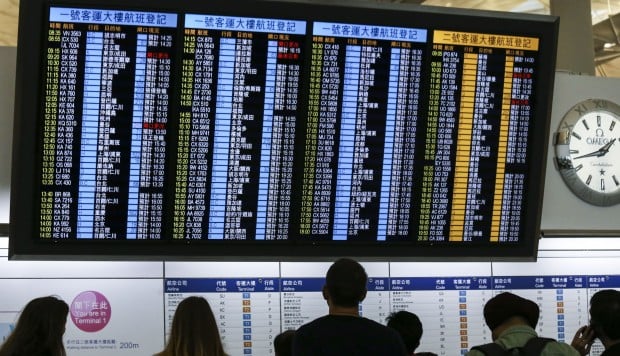 Super Typhoon Mangkhut has derailed the travel plans of tens of thousands of passengers travelling to and from Hong Kong International Airport.
The Airport Authority said most flights had been cancelled for Sunday because of the storm but it was unable to provide the total number of flights that would be disrupted.
At least 543 flights with Hong Kong-based carriers – Cathay Pacific Airways, Cathay Dragon and Hong Kong Airlines – were scrapped, affecting about 96,000 passengers.
"With the approach of the super typhoon, it is expected that weather conditions at Hong Kong airport and the surrounding area will start to deteriorate and affect flight operations," said Steven Yiu Siu-chung, the authority's deputy director of service delivery.
Mangkhut, named after the Thai word for the mangosteen fruit, was estimated to be about 580 kilometres southeast of Hong Kong at 7pm on Saturday, according to the Observatory.
It warned that a No 10 signal could be issued on Sunday, while it expected the storm to be closest to the city at about noon and within 150 kilometres.
Yiu said operations for about 1,200 flights on Saturday were normal and that airlines would have to further monitor the situation to see whether flights could resume on Monday.
In preparation for the extreme weather, the authority increased staffing for its maintenance and general operations.
"We have weathered many typhoons in the past 20 years," Yiu said. "We will have enough staff on site to check and make any maintenance repairs as necessary."
The authority prepared basic supplies such as blankets, water and biscuits for stranded passengers who must stay overnight. It asked restaurants and convenience stores to extend their opening hours and stock up on food.
Cathay Pacific said it would announce by Sunday morning the arrangements for flights on Monday, adding that help had been provided to affected passengers.
Ferry services to outlying islands were also affected. New World First Ferry said it would suspend all services from 12.30am on Sunday until further notice.
Should the signal No 9 be issued, services in open sections of the railway will be suspended immediately
MTR Corporation
Separately, the MTR Corporation said on Saturday it expected minor flooding to occur at some railway project construction sites during the typhoon, but would "strive to control the situation".
MTR train services would continue to operate under gale or storm signal No 8, but services in open sections of the railway could be suspended at any time without prior notice if conditions are found to be unsafe.
"Should the signal No 9 be issued, services in open sections of the railway will be suspended immediately for the sake of safety," the MTR Corp said.
The rail operator set up a "war room" at the terminal of the city's new high-speed rail line, with a special team to monitor the situation, make contingency plans and send staff to cope with any emergency, disruption or damage wrought by Mangkhut.
John Woo Shui-wah, deputy chief of operations for the line, set to open later this month, said there would be no safety problems with the terminal's roof, which is made of more than 4,000 glass panels. He noted it withstood the force of Super Typhoon Hato last year.
"So far we haven't come across even a single glass panel that needed to be replaced," he said.
"Each layer of glass is held in place by an adhesive substance that keeps the layers of glass bonded even when broken. It prevents the glass from breaking into large sharp pieces. So it's pretty safe from any attacks by strong winds."
He said special measures such as the use of sand bags and anti-flooding boards had been put in place at all station exits, and all the drains had been cleared to prevent an overflow.
The railway's chief of operations, Francis Li Shing-kee, said it had deployed a special team to conduct regular checks this week on any water seepage or other problems.
Elsewhere, hundreds of cable cars were brought indoors, with theme parks closing rides as the storm approached.
But owners of some of the city's most famous skyscrapers said they were likely to avoid any major problems, and the bank building which sprayed glass into the street during a storm last year had strengthened since.
Source link