High Point, NC – Moving here has made all the difference for Madcap Cottage.
Over the past four years since the company relocated its headquarters to High Point to be closer to the market, its lifestyle brand initiative has had a growth spurt.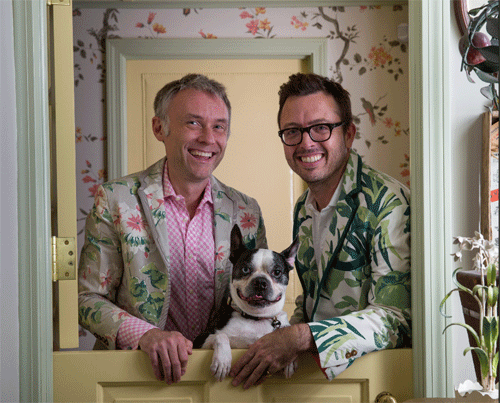 John Loecke and Jason Oliver Nixon
"We've has a big push this year," Jason Oliver Nixon, who with John Loecke co-founded the company, told HTT. "High Point has been a great place for us to spread our wings. When we came here, we didn't have a single licensee."
Fast-forward, and today Madcap Cottage boasts nine licensing programs in the home arena, including two major recently inked partnerships within textiles: Westport Linens for bedding, launching next week at New York Home Fashions Market; and Momeni for area rugs, debuting at High Point Market in October.
All of Madcap Cottage's designs are all based on Loecke's sketches and watercolor artwork.
"John's inspiration is based on our travels all over the world," he said. "There is nothing mechanical [about our designs]. Everything is special, everything is hand-touched."
Armed with strong momentum, Madcap Cottage's goal going forward is "to move into other lifestyle categories," both in home and beyond, Nixon said.
In 2019, that will include tabletop come spring season, and later possibly fashion accessories and apparel.
Hospitality is another key focus, he added. The first step is with a fabric line, followed by a Madcap Cottage hotel – the latter "our goal for 2020," Nixon said.
"We really want to create a Madcap Cottage hotel property and extend our brand into hospitality."
Both formerly journalists working in TV, Nixon and Loecke are well versed in storytelling – which is their strong suit and at the crux of their brand.
"We're building on that conversation with our spirit and sensibilities," he said. "We are always bringing our content to life, using our website and social media, to build our community and carry our story throughout. We're using our journalism skills to better understand our clients and their needs, asking the right questions to engage them and reinterpret John's original art to create new products. It's how we are building a lifestyle brand for Madcap Cottage."
Source link