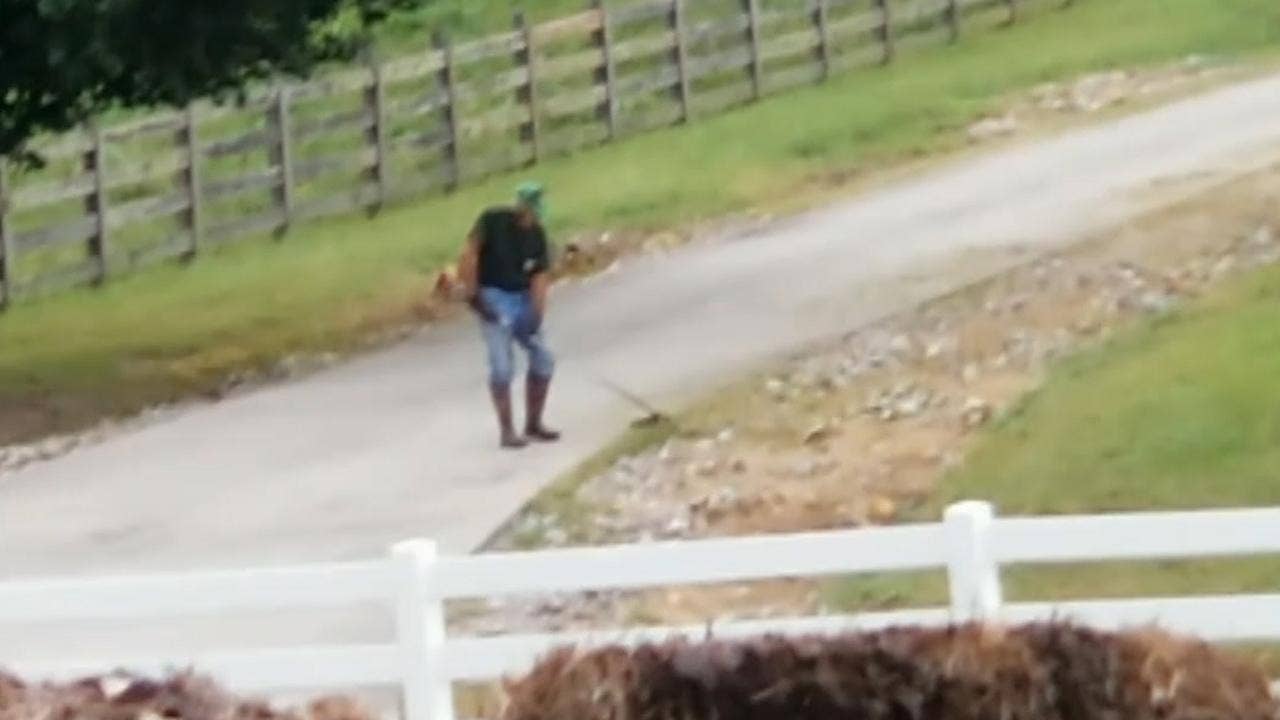 A DJ who performs at a wedding venue in Virginia is in a dispute with the neighboring horse farm, claiming the owners intentionally disrupt ceremonies by "making as much noise as they can."
Kidd Carter, owner of Blue Ridge Entertainment in Roanoke, posted his complaint on Facebook. Carter wrote that every time he does weddings at Triple J Farm Events, a venue in Catawba, the owners of Catawba Equestrian Center next door "ruin weddings" so they can try to "put Triple J out of business."
"Every time it's the same. Right before the ceremony starts there's a bunch of noise that happens across the street. Whether it be a trimmer, a tractor, a mower, a bush hog, whatever it is to disrupt these folks' ceremonies," Carter told WFXR News.
DELTA PASSENGER REMOVED FROM PLANE FOR HEAD-BUTTING FLIGHT ATTENDANT
Carter also shared two videos from a wedding where a person at the equestrian center is weed eating the driveway in the middle of the ceremony.
"I watched the pastor go over to talk to the guy afterwards and was told he would be arrested for trespassing if he didn't get off the property. I encourage the community to continue to support Triple J Farms and don't let those horse stable bullies win," Carter wrote in his post.
The owner of Triple J Farm Events wouldn't comment on the dispute due to ongoing litigation, but released the following statement to WFXR: "Triple J Farm Events…would like to apologize for any stress this has caused any future brides. I promise your wedding day will be beautiful and perfect. No bride has ever left unhappy."
While Carter claims the noise starts and stops in tune with the ceremonies, the owner of Catawba Equestrian Center, Deborah Caldwell-Bono, says it isn't intentional and they aren't doing anything they haven't been doing for the last 16 years.
"Our farming practice has not changed. And unfortunately for them, Saturday afternoon is when they have chosen to have these events right where we do the majority of our work most of the time. So, is there an inherent conflict in that? Yea. Is it our fault? No," Caldwell-Bono told WFXR.
Caldwell-Bono also said the venue is guilty of noise violations and other neighbors have complained about the music being too loud, but Carter thinks the equestrian center just doesn't like dealing with the added traffic on event days.
FOLLOW US ON FACEBOOK FOR MORE FOX LIFESTYLE NEWS
Both Carter and Caldwell-Bono claim they'd like to be able to coexist, and Caldwell-Bono said she's willing to work out a deal.
"I feel terrible for those people that are having the weddings when it does happen that way. But Triple J holds the key to resolving this," she said.
Source link