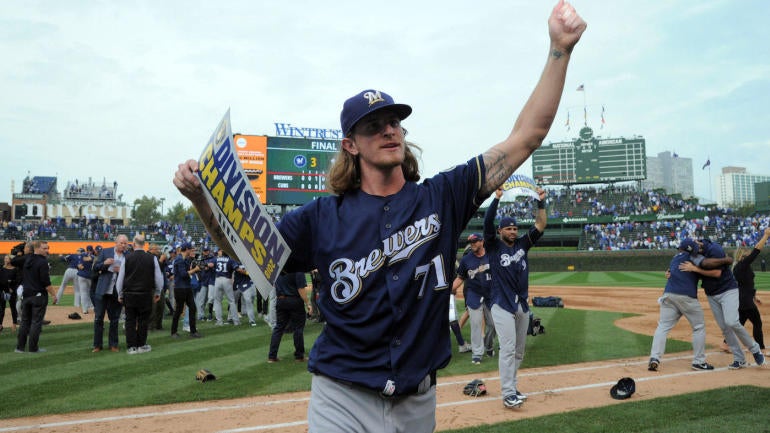 CHICAGO — The National Central tiebreaker between the Brewers and Cubs on Monday at Wrigley Field wasn't a bullpen game in the 2018 sense of the term, but the two bullpens did play a determinative role in Milwaukee's eventual win. And as the two teams advance to the postseason, those bullpens are in very different shape.
Coming into Monday's tilt, a reasonable question was whether either manager would treat the game as a must-win. These days that would entail going to your high-leverage relievers at the first hint of trouble, even if said hint came in, say, the third inning. Starters Jhoulys Chacin and Jose Quintana, however, didn't need the early help, as they combined for 10 2/3 innings and just two runs allowed.
Maddon went to his bullpen after Christian Yelich singled off Quintana to lead off the sixth. Quintana was at just 64 pitches and had allowed only one run, but he was two batters into his third time through the order. Counsell also went with a bit of an early hook in the sixth. He lifted Chacin even though he was at a modest 75 pitches and had just induced a double play. However, Daniel Murphy was coming up, and that meant Chacin would be going through the Cubs' lineup for the third time. So this wasn't aggressive bullpenning by contemporary standards. This was merely lifting the starter before the opposing lineup got too many third looks at him, and that's how almost every manager these days treats any starter who's not a genuine ace.
After those two reasonable decisions, things got interesting. Counsell went to the lefty, Xavier Cedeno, to face the left-handed Murphy and the switch-hitting Ben Zobrist. Cedeno, though, yielded a single and a walk, and the Cubs had two on with two outs. The score at that point was 1-1, and, per basic win expectancy, the Cubs had a 56.5 percent chance of winning the game. With Javier Baez up, Counsell obviously wasn't going to leave Cedeno in. To replace him, he went to Joakim Soria.
Soria is 34 and had an ERA of 4.15 since joining the Brewers via trade on July 26. While Counsell has turned to Soria in big spots, this was the biggest of the season to date. In terms of leverage index, which measures the importance of a given game situation, this one checked in at 2.49. The average is 1.0, and Soria under Counsell has had a mean leverage index of 1.51. Layer on top of all that the fact that this game determined the division title, and it's no exaggeration to call it the biggest spot of 2018 for the Brewers. Soria came through, though, as Baez, who was surely looking for something away, swung through the kind of middle-middle fastball that doesn't often make it past him.
Given the vital nature of that situation, the temptation might be to go to closer Jeremy Jeffress to attack Baez. The pitcher's spot wasn't due up for another five batters, so the Brewers potentially could've gotten multiple innings out of their lockdown closer without having him bat. Or maybe you ignore the platoon issue and go with Josh Hader. Instead, Soria survived the spot and by doing so allowed Counsell to structure his bullpen decisions in a more comfortable manner. Before the game, Counsell talked about the need to balance the consequences of this game — yes, it's an important one that affords the winner a much easier path to the belt and the title, but it's not an elimination game. Going to Soria instead of those higher on the food chain may have been Counsell's attempt to strike that balance. The result was in Counsell's favor, but it's fair to question the thought process that got him there. In any event, Corey Knebel pitched a perfect seventh, and then Hader worked the final two innings, including a high-stakes showdown with Anthony Rizzo, who came about, oh, eight feet from tying the game.
Now the Brewers, as NL Central champs, will advance to the NLDS against the NL West champion. The drive to Milwaukee is a short one up I-94 and won't play again until Thursday. That means Hader will go into Game 1 of the NLDS having on two days' rest and having thrown 57 pitches over the last full week. Jeffress hasn't pitched since Saturday, and he'll go into the NLDS having thrown 26 pitches in the previous week. Knebel will go in having thrown 47 pitchers over the previous week. Rested and ready, that.
On the other side, Maddon on Monday used six different relievers to get through the final four innings. As well, the Cubs on Sunday were the only team playing for something who didn't completely cruise to victory. While the Brewers, Dodgers, and Rockies coasted to victory, the Cubs struggled to put away the Cardinals until late and wound up using nine pitchers.
On Monday, the eighth inning crystallized Maddon's dilemma. He pulled Justin Wilson after he allowed back-to-back hits, but then Steve Cishek allowed the game-tying single to Lorenzo Cain. Randy Rosario came in to face Yelich, whom he struck out, and then Brandon Kintzler was summoned to retire Ryan Braun. He did not, as Braun singled to center to give Milwaukee a 3-1 lead. Maddon wound up using four pitchers to get three outs, but they allowed two season-tilting runs in the process.
So on Tuesday, Jesse Chavez, who's been one of Maddon's go-tos since Pedro Strop went down, comes in having pitched four of the last days. Cishek's thrown five out of the last six days. Carl Edwards Jr. struggled in September and has shown decreased velocity in recent outings. Behind all this is that the Cubs have now played 42 games in the last 43 days and, thanks to their loss to the Brewers, will soon make it 43 in 44.
It's worth remembering that the Cubs on Monday were without Strop and Brandon Morrow thanks to injury. Strop has been out thanks to an injury sustained while running the bases, and before the tiebreaker it appeared that he'd be out until the NLDS. After the game, however, Maddon said he wasn't sure about Strop's status, while Strop himself told reporters that he'll be ready to pitch in the Wild Card Game. Consider this a developing situation, but it's at least possible that Strop can go. He hasn't pitched since Sept. 13, and it's possible he's not 100 percent even if he does go on Tuesday.
Maddon doesn't have ideal options right now, and recent events will make it difficult to approach the Wild Card Game in the manner he'd likely prefer. Maybe he'll lean on Jon Lester — his likely starter — longer than he'd like because of tattered and fatigued bullpen. Really, the Cubs needed the division title and the days off more than the Brewers did, but their new reality is suiting up once again without rest for a game that could end their season in an instant.
Source link