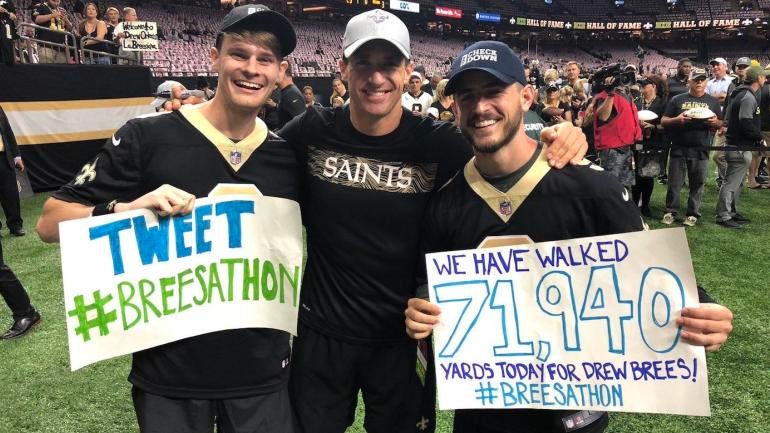 Throwing for 71,941 yards over the course of an NFL career is pretty impressive, but so is walking 71,941 yards in a day. Both of those feats were accomplished on Monday night in New Orleans.
Drew Brees completed the former during the Saints' win Monday night over the Redskins, making him the NFL's all-time leader in passing yardage. The latter was achieved by two Brees fans, who decided to make a monumental trek to honor their favorite quarterback's achievement and watch him break the record.
Ben Gallagher and Grady Forkin of NFL.com's "The Checkdown" started the 41-mile pilgrimage at Louis Armstrong New Orleans International Airport in Kenner, La., at around 3:30 AM on Monday morning. They walked all day, taking the Mississippi River Trail and making their way through the French Quarter before ending the journey at Mercedes-Benz Superdome in time to catch the Saints take on Washington.
In fact, they were able to arrive early enough to meet Brees on the field and grab a picture with the man who inspired the outrageous expedition that presumably inflicted quite a lot of soreness in their legs. Luckily, they still clearly had enough left in the tank to muster up a smile.
Luckily, all things went according to plan. Not only did they finish the trek in timely fashion, but they also got to watch Brees set the record and pick up a victory on MNF. But can you imagine if he somehow didn't surpass Peyton Manning's previous record? That would have been incredibly hilarious. The only thing that sounds worse than walking 41 miles is walking 41 miles for no reason.
Source link