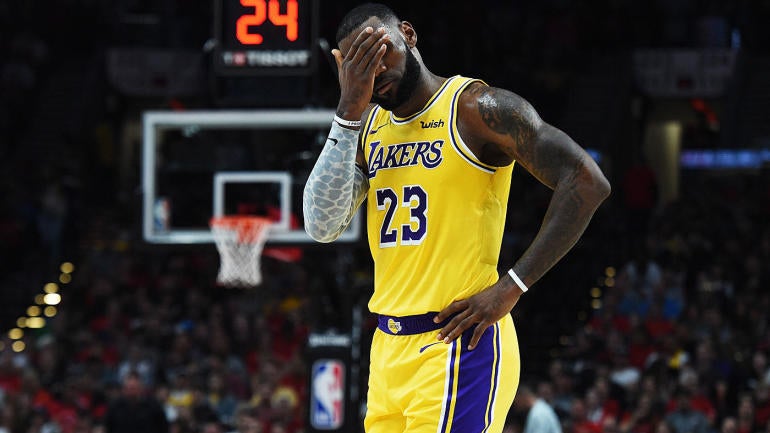 LeBron James made his Lakers debut on Thursdays in a 128-119 loss to the Portland Trail Blazers. There were a lot of things to like about the way the Lakers played, but there were certainly some causes for concern, as well. Here are five quick takeaways.
How long until LeBron takes more control?
The King posted 13 points on 5-of-6 shooting in his first quarter for the Lakers, who, with Rajon Rondo leading the pace, were all playing like they were shot out of a cannon. As the game wore on, LeBron started to control possessions a bit more, but he was clearly in "get everyone involved" mode for most of the night, doing a good chunk of his damage in the gaps — he scored on a sweet cut to the baseline off a Rondo pass, and he had a couple offensive put-backs (he only had 34 of those all last year). The 13 points were a career first-quarter high for LeBron, if you can believe that.
All told, LeBron posted 26 points, 12 boards and six assists in 38 minutes. It was an easy line. LeBron allowed Rondo to control much of the half-court offense, and Rondo was really good with 13 points and 11 assists as a plus-11 in his 32 minutes. This has been a big storyline, LeBron playing more off the ball, and he definitely did a bit more of that in the opener than we've seen in the past. He found Brandon Ingram on a nice high-low pass over the top. He created corner 3s for Ingram with some split action alongside Rondo in the middle. He ran the wing on breaks rather than getting the outlet and pushing the ball himself.
There were good things to come of this, namely the fact that six Lakers scored 13 points or more. Ingram was nice in the third quarter after struggling a bit in the first half; he could have the biggest adjustment of any Laker playing more without the ball. Josh Hart was lights out with 20 points. In the second half he finished a beautiful move on which he refused LeBron's ball screen and went left to the rim. He went 3-of-5 from three. Kyle Kuzma was aggressive all night and finished with 15 points.
Still, the Lakers lost. LeBron never got into that "I'm going to take this game over" mode, and at some point, he might well have to start doing that more often. When will that point be? How will it happen? It's a tough situation because in the West, LeBron can't do it alone. In the East, that was fine. But in the West, he needs these guys to be really good alongside him. In a lot of ways, they were on Thursday. In one major way, they weren't. Which leads us to …
Turns out, shooting is kind of a big deal
This has been a concern surrounding the Lakers ever since they started putting this super weird roster together with the signings of Rondo, Lance Stephenson, Michael Beasley and JaVale McGee: Who is going to make shots? Particularly 3-pointers? On Thursday, the Lakers shot 7-of-30 from deep. That's 23 percent. The Blazers made 13 3s at a 35-percent clip. For all intents and purposes, that was the difference.
We all know LeBron has traditionally operated most successfully in a mostly four-out set, particularly in his last stint with Cleveland, with shooters all around him to space the floor and open the lane for his wrecking-ball drives. Ingram set up shop in the corner as a spot-up guy early on and missed two open 3s; he went 0-for-4 from deep for the game. Kuzma went 1-for-7. Lonzo Ball went 1-for-4. Stephenson was 0-for-3. LeBron, for his part, also took a donut from deep on four attempts.
Pretty simply, if you can't makes 3s, or guard against 3s on the other end, you're in a world of trouble. There are things that can be adjusted to become a better defensive team against the 3, but knock-down shooters aren't just going to suddenly show up on the Lakers' roster. Lakers fans can hold out hope that Kuzma has a hot year (he is capable) and that either Ingram or Ball get hot in some kind of alternating role from game to game. These things are not completely unreasonable, but they aren't exactly dependable developments either. Well see.
We might have a Lonzo problem
For now, Ball has lost his starting job to Rondo, and if Thursday night is any indication, he's not going to get it back any time soon. Again, Rondo was really good, and Lonzo was pretty much the exact opposite — posting seven points and one assist on 2-of-7 shooting for a team-low minus-15 in his 19 minutes. Yikes.
There has been a lot of talk about how Lonzo is actually a really good off-ball player, but I never bought it and still don't. He's not a good shooter, plain and simple. He's TOO willing of a passer in the half court, often getting rid of the ball like a hot potato. If the Lakers continue to play super fast, and can create a ball- and player-movement-based half-court offense where cuts and screen actions are consistently executed, Ball does have a natural feel for that kind of inclusivity. But it's all predicated on his energy, and pretty simply, he was just going through the motions on Thursday. If you give up the ball and just stand there, and you can't shoot at a level that scares defenses in the slightest, you are a non-factor.
That was Lonzo Thursday night. A complete and total non-factor. There is a real swag that comes with starting a basketball game. This is true at every level, from junior high on up. It's a pride thing. A confidence thing. For a young player, its easy to view coming off the bench as a demotion rather than an opportunity to impact the game in a different way — say, the way Andre Iguodala views his role in Golden State. That's veteran stuff. For young guys, it can be hard to be assertive when you just got demoted. Lonzo, who's never really been all that assertive to begin with, better figure out how to do that, or else he better get used to being a backup.
A little love for the Blazers
Every year the Blazers get questioned. Every year they're good. Here's the deal: No team with Damian Lillard on it is ever going to be a bad team. I am convinced of this, and have been for a long time. Lillard went for 28 points, six rebounds and four assists. He offset a tough shooting night by going 8-for-8 at the free throw line. This is what stars do, and Lillard is a stone-cold star. Should be in the MVP conversation every year. Don't let anyone tell you different. Just watch at how he answers LeBron's huge dunk with one of his own.
I talked to Terry Stotts this summer and he told me one of the Blazers' main focuses this year was going to be the 3-point line — both shooting more than they did last year and defending it on the other end. As stated above, they shut down the Lakers 3-point attack and made 13 of their own from deep — thanks in large part to the season-opening surprise performance of Nik Stauskas, who went 5-for-8 from deep for 24 huge points off the bench. CJ McCollum finished with 21 points on 3-of-6 from deep. Portland's bench was terrific as a group.
Stotts also told me he wanted his team to create more offense via the pass this year rather than isolating quite so much, That can still get better — they only had 21 assists on Thursday. But listen, to some degree you ride the horses you have, and Lillard and McCollum are the horses. Why people are always afraid to bet on them is beyond me.
Source link