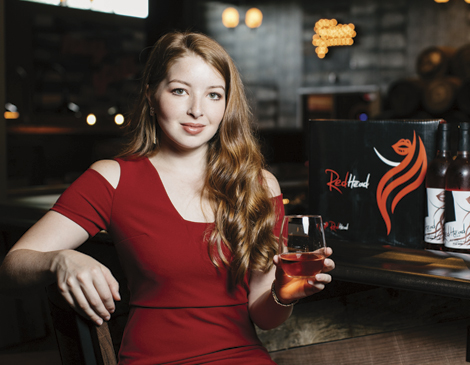 A silver Sharpie message on a bottle of Ohio-made red wine glimmers in the flourescent light of the West 117th Street Giant Eagle in Lakewood. "As a third generation winemaker," reads the bottle of RedHead Red Blend, "it's my pleasure to share my passion with you!"
Marisa Sergi is the hand behind the Sharpie. She's also the CEO, winemaker and redhead behind RedHead Wine. From Madison to Medina, Sergi has likely visited your local supermarket for impromptu bottle signings or formal "meet the maker" engagements. On Instagram, she private-messages customers unsure of what to pair with the red blend (spicy Cajun chicken) or where to find a bottle near downtown (Walmart in Steelyard Commons). Sipping selfie-takers often end up on her story.
Drinking RedHead feels like you're joining Sergi's come-up. That grassroots vibe has helped place her brand in thousands of social media feeds and more than 400 stores throughout Ohio, West Virginia and Pennsylvania, including Walmart and Buehler's Fresh Foods.
"People want to know what's going on behind the scene," says the 25-year-old. "The value proposition for [stores like] Giant Eagle is that we're not just selling you a bottle of wine, but we're working hard for you out in the market, too."
Yet, it's winemaking, not marketing, that comes naturally to the third-generation vintner. Sergi's grandparents immigrated to tiny Lowellville, in Mahoning County, from Naples, Italy, in 1953. A winemaking tradition came along with them: fermentation barrels in the amateur winemakers' basement, and grapevines and fruit trees in the backyard.
Sergi recalls a childhood of sipping thimbles of wine, tasting still-sour grapes and, once she got old enough to reach the handle, pushing the hand-crank press. As a fifth-grader, she even wrote that being a winemaker was her dream job.
"When I was 2 or 3, they found me in the cellar trying to get wine from a barrel in my sippy cup," she says. "Wine is in my blood, literally and figuratively."
She could have taken an easier path to that dream. In 2001, her father, Frank, founded Youngstown's L'uva Bella. The third biggest winery in the state behind Madison's Debonne Vineyards and Geneva's Ferrante Winery, it produces 55,000 gallons a year.
Before her junior year at Cornell University's viticulture and enology program in 2013, she spent the summer interning at her dad's winery and developed the first batch of her red blend with head winemaker Charles Crespi. The recipe, a 60-40 blend of California zinfandel and Chilean carmenere, is velvety, smooth and fruit-forward with notes of cherries, blackberries, strawberries and a little kick of spice.
Despite lacking business expertise, Sergi crafted a startup that flowed as easily as a good red. The sleek black label's bold, mysterious pursed red lips and long, fiery locks came from a class project on branding.
Then, she and a sorority sister built a 53-page business plan that placed among the top 15 worldwide in the Queen's Entrepreneurs' Competition in Kingston, Ontario. By the time Sergi graduated in 2015, RedHead was already in nearly 100 stores.
Yet, she still had something to prove. Instead of jumping into the family business, she stepped away from RedHead to accept a full-time position as a winemaker for E. & J. Gallo Winery, the world's largest family-owned winery and distributor, headquartered in Modesto, California.
"It would have been handed to me," she says. "I was like, 'If I still think about the company a year from now, then I will consider resigning.' "
Twelve months later, she returned home to run RedHead. Today, the CEO is out to prove that her $14 wine is accessible to the craft beer and fast-casual generation. Released this year, RedHead's boozy, Provence-style rosé — made from California malbec, merlot and zinfandel varietals — tapped into a summer foodie trend. She plans to launch a video series to show wine pairs just as well with Cheetos, Little Debbie's and Netflix as it does with wagyu beef or bucatini alla Snob.
"[Wine] has been known by the public to be very sophisticated, snobby, pretentious," she says. "That's not what wine is to me."
In August, she took on a consultant role at L'uva Bella to help shore up systems and employee relations. For Sergi, being a third-generation winemaker means progress, not just continuation. After watching her grandparents' hobby turn into a business in her dad's hands, Sergi hopes to prove that, like wine, some things just get better over time.
"That hard work ethic is instilled in you when you have immigrants as grandparents and parents," she says. "It's really empowered me to see how big could this go."
Source link