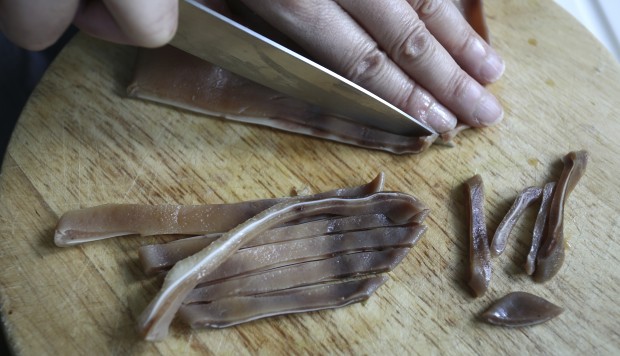 Governance in Hong Kong has deteriorated so much since the handover, it is now hilariously bad. Recently, reports surfaced that the Housing Authority had imposed a restriction on late-night cooking in Wo Lok Estate, a public housing estate in Kwun Tong. For a few months, residents were instructed to refrain from cooking and "making meat-chopping, vegetable-cutting, stir-frying and chiselling noises" between 11pm and 7am every day, so not as to disturb neighbours. One notice, which was circulated on the internet, stated that offenders would be prosecuted or given demerit points.
Apparently, the restriction came in April after some residents were accused of cooking in the middle of the night, and the estate office received two complaints about noise. The warning notice about cooking has since been taken down. Still, the Housing Authority had abused the penalty points system in forcing the rule on residents in the first place.
It had also overlooked the needs of grass-roots residents. Many of them work till late in the night, before they can rest and eat. To them, a restriction on late-night cooking would be outrageous, even heartless.
This incident is symptomatic of the rot at the heart of the Hong Kong government. Bureaucracy is crippling each administrative bureau or department. Officials have this "do nothing, don't make mistakes" mentality. Irresponsible and negligent, they take complaints at face value without investigating matters thoroughly.
Watch: Is a water pipe the answer to Hong Kong's housing crisis?

Think Hong Kong is forward looking? It's ruled by inertia
In the case of the noise problem in Wo Lok Estate, was it really caused by late-night cooking? The main reason is surely poor sound insulation in the 56-year-old estate. Walking along the corridors, residents can hear sounds from each household: the television, a private conversation, and so on.
One solution could be insulation boards on the windows facing the corridors, though they might affect air circulation. There must be other possibilities. However, has the Housing Authority made a real effort?
In fact, it might be responsible for the key source of noise in Wok Lok Estate: drilling in vacated flats that are being renovated under the Housing Authority's auspices. The authority would then seem to be dealing with trifling complaints, while ignoring the elephant in the room.
Housing is a basic right. Close to half of Hong Kong's population live in public housing, which is a cornerstone of the city's stability. However, the waiting list for public housing has been growing longer, even as the wealth gap worsens.
Hong Kong's wealth gap greatest in 45 years. What can be done?
Since 2014, the government has been failing to hit its yearly target of building new public housing. The Housing Authority has not made the situation better, with its demerits points system. Frankly, the system is disturbing. People could be kicked out of subsidised housing for minor infractions like littering, causing a noise nuisance – or cooking. This has brought disharmony and unhappiness among neighbours.
In a separate case, which is under judicial review, the Housing Authority evicted an 80-year-old woman diagnosed with dementia from a subsidised flat. Apparently, the widow no longer answered her door because she had a fear of strangers. She stopped cooking, using the washing machine and taking hot showers, because she had simplified her daily routine. She also temporarily moved to her son's place from late last year to early this year. For all of the above reasons, her use of water and electricity was low – but the Housing Authority used the meter readings as evidence that she had failed to maintain continuous residence for three months and terminated her tenancy.
Between imposing restrictions on cooking and kicking out elderly widows, the Hong Kong government is seriously failing residents.
Albert Cheng King-hon is a political commentator. [email protected]
Source link