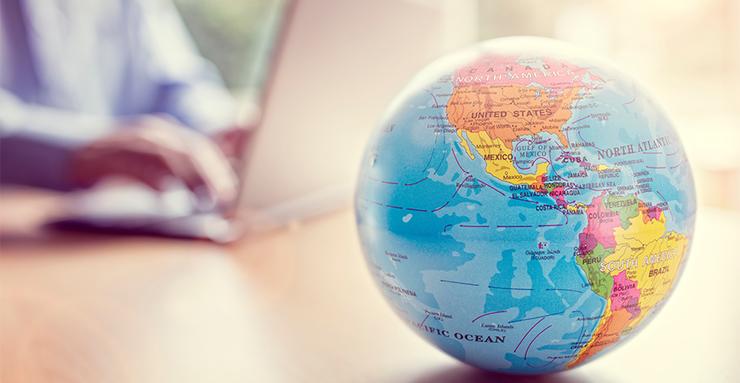 The national annual International Education Week will be celebrated on the USD campus Nov. 12-16 with a series of events tied to better understanding of international education issues.
The University of San Diego's international presence is alive and well across campus, whether it is part of the curriculum, by way of programs, centers, institutes, organizations and more. A global perspective on learning is an essential tool for any Torero's toolbox.
In 2018, November 12-16 are the dates for the annual International Education Week national celebration. The week is a joint initiative of the U.S. Department of Education and the U.S. Department of State to recognize the global exchange environment between the United States and other countries. At USD, the campus puts on a series of events during the week as well as announces the International Impact Award winning faculty member(s).
Study Abroad Ranking to Be Revealed
Furthermore, the latest Institute for International Education Open Doors Report on International Educational Exchange will be released on Monday. The report provides rankings for all college and universities on several international topics, including study abroad. The University of San Diego's most recent ranking in 2017 was second for undergraduate participation in study abroad among the top 40 doctorate-granting universities.
"It's an honor to be recognized as number two in the U.S. for the percentage of our students who study abroad," Denise Dimon, PhD, Associate Provost for International Affairs at USD, said last year. "This ranking is a tribute to the entire USD community and would not be possible without collaborations both within USD and internationally. This includes dedicated staff in the International Center, both in San Diego and at the USD Madrid Center, to our globally engaged faculty, supportive leadership, alumni, international partners and, of course, our students who inspire us to create more international opportunities to reinforce their desire for cross-cultural learning and building connections with others around the world."
The high ranking demonstrates USD's continued strength in the area of international study. Since 2007, USD has been ranked among the top 10 in the doctorate-granting universities category. Eight of the last nine years, USD has finished among the top three, including being No. 1 in 2011 and 2012.
USD's International Educational Week Events
On the USD campus, all faculty, students and staff are encouraged to attend and participate in various activities taking place this week. Here's the 2018 schedule:
Monday, Nov. 12
International Relations and the Middle East: Panel Discussion, 4-5 p.m., Mother Rosalie Hill Hall's Warren Auditorium. Join Middle East specialists, Dr. Avi Spiegel, Professor of Political Science, Dr. Ali Gheissari, Professor of History, and Dr. Necla Tschirgi, Professor of Peace Studies as they discuss their work and comment on the current status of international relations in the Middle East.
Tuesday, Nov. 13
School of Leadership and Education Sciences (SOLES) International Travel and Research Opportunities, 9 a.m. to 3:30 p.m., Mother Rosalie Hill Hall's Hilton Loggia (hallway by the west entrance of the building). USD faculty and students will exhibit their work on funded international experiences to teach and conduct research in different parts of Africa and Asia.
Life Between Borders — Black Migrants in Mexico: the Haitian Community of Tijuana: Film Screening and Director Commentary, 4 to 5:20 p.m., Hahn University Center 103 A/B. Director Ebony Bailey will discuss the film and its implications. Film will be in Spanish with English sub-titles. This event is open to the public and is co-sponsored by PILAS (Program in Latin American Studies) and the Karen and Tom Mulvaney Center for Community, Awareness and Social Action.
Undergraduate Study Abroad Fair, 7 p.m., Alcala Vista Apartments. Learn about the variety of semester and short-term study abroad opportunities for undergraduate students. Pizza will be served.
Wednesday, Nov. 14
International Impact Award Luncheon and Panel: Community Engagement Abroad, noon to 1:30 p.m., Joan B. Kroc Institute for Peace and Justice, Room H and I. The International Center is hosting a luncheon and panel discussion where a panel of faculty will discuss how they promote international community engagement in their courses locally (with our local multicultural communities) or abroad (across the border or elsewhere). The International Center will also honor all 2018 International Impact Award nominees and announce the award recipient. The panelists will answer questions such as: What are the different ways, across different courses and disciplines, that we can develop ways to engage our students in the local international/multicultural communities? How does a community engagement experience impact faculty and students? How can community engagement be infused into study abroad curriculum? Moderator: Dr. Kevin Guerrieri, College of Arts and Sciences. Faculty Panelists: Dr. Odesma Dalrymple, Shiley-Marcos School of Engineering; Dr. Moriah Meyskens, School of Business; Dr. Perla Meyers, College of Arts and Sciences; Dr. John Halaka, College of Arts and Sciences; Dr. Andrea Flynn, School of Business; and Dr. Susie Hutchins, Hahn School of Nursing and Health Science.
Friday, Nov. 17
International Student Organization Holiday Dinner and Dance, 7-9 p.m., Hahn University Center Forums. Join USD's International Student Organization in celebrating Fall holidays around the world. This student event features an international buffet dinner as well as a live DJ and dancing. All USD students are welcome.
— Ryan T. Blystone
Source link