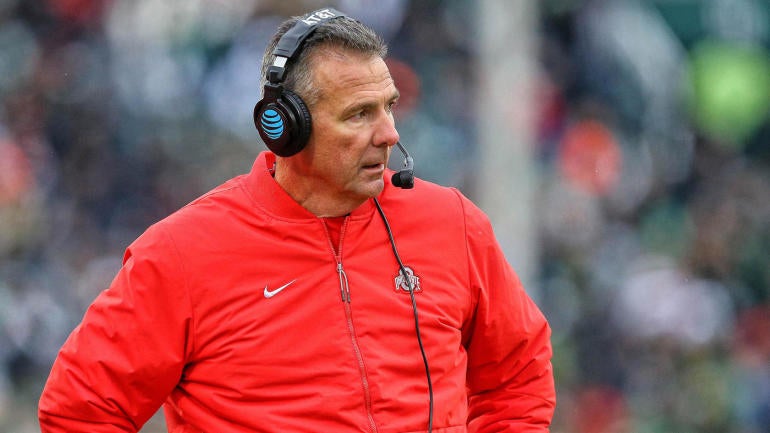 No. 10 Ohio State got a win over Maryland on Saturday in overtime, but wasn't a big winner Tuesday night in the latest edition of the College Football Playoff Rankings. The Buckeyes stayed stagnant in the No. 10 spot this week, and was jumped by undefeated UCF — which moved from No. 11 to No. 9 on the heels of its 38-13 win over Cincinnati Saturday night in Orlando.
The reason? The defense. Or, more specifically, lack thereof.
"While UCF may not have the depth of talent of Ohio State, the committee thought they're playing more as an all-around team after Week 12," chairman Rob Mullens said. "We watched the Maryland game and the games the weeks before. Their defense is struggling a little bit. Their offense is obviously keeping them in the games and helping them find a way to win. But that's what it came down to."
It wasn't just the shock of an AAC team jumping over one of the sport's blue bloods that should concern Ohio State fans, though. The Buckeyes are very similar to No. 6 Oklahoma in many areas, specifically opposing teams putting up big plays on their defenses on a consistent basis. Ohio State ranks No. 87 in the country giving up plays of 10 or more yards with 164, and Oklahoma is No. 98 with 168. Despite that, the Sooners appear in great position to earn a spot if a few dominoes fall. Ohio State is left sweating out its chances even if it does notch two quality wins over Michigan and Northwestern, respectively, to close out the season.
What should be even more concerning for Ohio State fans is that, when specifically asked about how the Buckeyes' blowout loss to Purdue compares to the Sooners' lone loss to Texas factors in, Mullens dodged the question like Peter La Fleur in "DodgeBall: A True Underdog Story." But behind the quotes, it's easy to see that the 29-point loss to the Boilermakers is the anchor weighing the program down.
"When we look at their full body of resumes, with Oklahoma we see one of the top offenses in the country with a dynamic quarterback, understanding that their defense struggles, and their only loss is to a ranked Texas team on a neutral site," Mullens said. "We understand Ohio State has a quality road win over Penn State. They keep finding a way to win, a close overtime win at Maryland, again, with their offense carrying the weight."
It's the same problem Ohio State had last year, but far more concerning. The fact that undefeated UCF is getting more respect and there's a team with similar flaws ranked four sports ahead of it makes it clear that, even if the Buckeyes win out, it might not be enough unless dominoes fall faster than their defense gives up big plays.
Source link