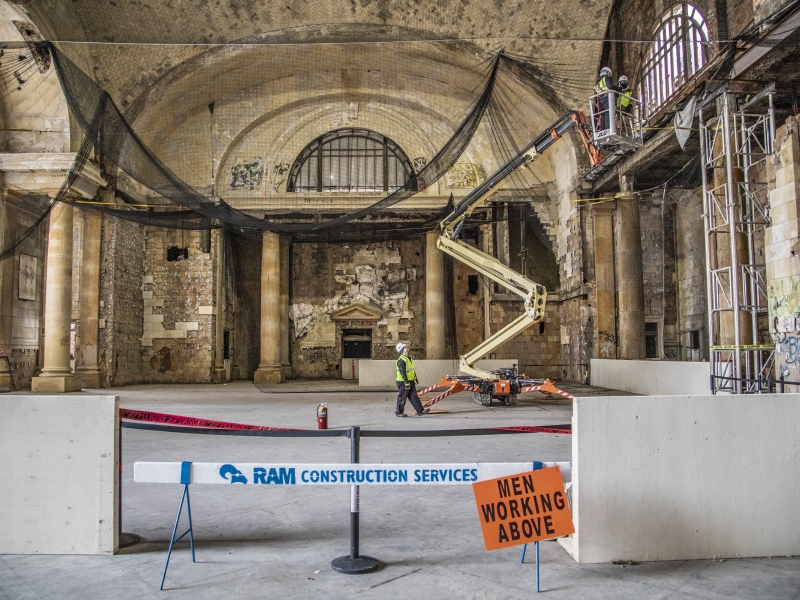 A water-shedding rubber membrane, 3-D modeling techniques and nearly half an acre of century-old ceiling tiles: Ford Motor Co.'s elaborate redevelopment of Michigan Central Station is under way.
Construction work officially started this week on the $350 million project at the depot in Detroit's Corktown neighborhood. The 105-year-old train station is the centerpiece of the Dearborn-based automaker's planned $740 million mobility-focused campus around Michigan Avenue.
On a chilly tour of the property Tuesday, Ford and its contractors outlined plans for a three-phase project that starts with the stabilization, winterization and drying out of the 505,000-square-foot building, whose architectural details are damaged by every freeze-thaw cycle. It has been vacant and open to the elements since closing in 1988.
Phase two involves replacing mechanical and electrical systems and restoring exterior masonry. The final phase entails finishing and restoring the interior.
Work up to this point has made the depot safer for workers. Among measures taken, crews hoisted a massive net in the depot's original waiting room to prevent pieces of the ceiling from falling to the ground. It can handle up to 1,000 pounds, said Ronald Staley, executive director of historic preservation for Christman Brinker, Ford's construction manager. Recent work has also included structural and engineering assessments and building stabilization.
Ford representatives declined to give details on the cost for winterization or other specific elements of the redevelopment.
The most dire task right now is "getting the weather out of the building," said Richard Hess, principal of Washington D.C.-based Quinn Evans Architects, which is Ford's design contractor for the project.
To divert snow and water from entering the depot, Christman Brinker will start installing temporary tarps within a week to a couple of weeks. They'll be fully installed by late January or early February, acting as roofs over the entirely exposed first-floor concourse in the back and assorted gaping window areas.
Crews will also install a large rubber membrane over the roof of the train station's main waiting room — the front section most known for its breadth of ornate marble and plaster details. That will divert water from entering the space.
More visible signs of the building's transformation will begin next summer when an extensive scaffolding system goes up and an exterior construction lift is added to the east end of the station, Ford said in a news release.
The masonry work is expected to take three summers. The exterior has around 8 acres of masonry and certain aspects can only be done in good weather.
To save time on the mammoth project with an anticipated completion date in 2022, Quinn Evans Architects expects repair and design work to take place simultaneously.
"On most projects, we go through the design and assessment and inspections and then we turn it all over to the contractor," Hess of Quinn Evans said. "Because we're trying to get this repaired and stabilized as quickly as possible, we are looking at this in phases where we're executing bid packages as we go along so Christman Brinker can actually start to work on repair work while we're still designing engineering systems, while we're still designing plaster repairs. While we're doing a lot of interior work, Christman Brinker can start doing more exterior repairs and structural repairs.
"We want to save the building. The best way to do that is to get under construction as quickly as possible."
Ford plans to return the Roman bathhouse-like front room with 55-foot ceilings and sweeping arches to its original grandeur. That means removing and either cleaning and replacing or remaking 21,000 square feet of Guastavino tile, as well as using 3-D modeling to create plaster molds for some larger features that are missing or crumbled beyond repair.
The team expects to get the building enclosed and substantially dried in the next six to eight months. By this time next year there could be a temporary heating system, too, Staley of Christman Brinker said.
Rapid heating could harm the structure, Staley said, but natural ventilation and evaporation will help dry out the building. Pumps to be installed in the basement will prevent more flooding and fans will circulate air, the release said.
While the main waiting room is the "primary historic space," Hess said, the concourse could look different. The entire first floor will be designed to attract local shops and restaurants, with open spaces suited for public use, Ford Chairman Bill Ford Jr. has said. A specific layout has yet to be revealed.
The team will have a better idea early next year, including of whether the office tower's top floors would be used for condos or a hotel, said Richard Bardelli, Ford Land construction manager for the Corktown project.
In June, Ford acquired the iconic train station for $90 million from the Moroun family. It plans to spend $740 million to transform it and surrounding properties into a 1.2-million-square-foot innovation campus where Ford and its partners will work on autonomous and electric vehicle businesses, and design urban mobility services and solutions. The project will bring approximately 2,500 Ford employees to Corktown, most from the company's mobility team, and an additional 2,500 jobs with Ford's partners and suppliers.
Ford has secured $239 million in state, county and city tax breaks for the endeavor. It has agreed to invest $10 million in the greater Corktown neighborhood under a community benefits agreement.
It remains to be seen exactly how Ford will include surrounding businesses in its plans, which are expected to include office, entrepreneur and retail space.
The automaker has engaged Urban Land Institute, a Washington, D.C.-based nonprofit urban planning and real estate education and research institution, to provide strategic advice on the project's development. This week the Urban Land Institute team is touring sites in Corktown, including Michigan Central Station, and talking with stakeholders from Ford, the city of Detroit, local businesses, civic groups and residents, Ford said in the release.
Source link