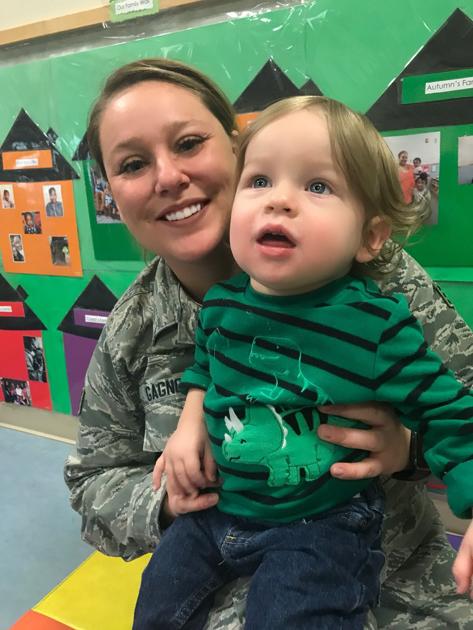 When it was time for Senior Airman Lissabeth Gagnon to return to work after maternity leave, the decision to continue breastfeeding was easy.
"The military is really, really supportive of new moms," said Gagnon, a first-time mother who joined the Air Force in 2015 and is stationed at Joint Base Charleston. "It was a really easy transition."
Last year, Gagnon nursed her son Aiden at the base's child care center in the mornings before dropping him off, then returned and nursed him again during her lunch break. Her goal was to breastfeed him for a year. Aiden just turned one.
"I wanted to go as long as I could," Gagnon said. "I still have some (breast milk) in my deep freezer for him when he gets sick."
The benefits of breastfeeding, especially for the youngest infants, have been well established. It protects babies from illness, provides them with essential nutrients, promotes bonding between mother and infant and is less expensive than formula.
But it's not always the easy choice, especially when new mothers need to return to the workplace.
Gagnon lasted much longer than most.
The Centers for Disease Control and Prevention estimate more than three-quarters of all South Carolina babies born in 2015 were breastfed at some point, but only 43 percent were exclusively breastfed for three months and only 24 percent were exclusively breastfed for six months.
These numbers aren't unique to South Carolina. Most moms don't follow the American Academy of Pediatrics' recommendation to exclusively feed infants breast milk for the first six months after birth. (Babies who are exclusively breastfed don't receive any other foods or liquids, aside from a vitamin D supplement.)
"High breastfeeding initiation rates show that most mothers in the United States want to breastfeed and start out doing so," the CDC report explains. "However, despite the recommendation to breastfeed exclusively for about the first 6 months, less than 50% of infants were exclusively breastfed through 3 months and about 25% were exclusively breastfed through 6 months. These rates suggest that mothers may not be getting the support they need from health care providers, family members, and employers to meet their breastfeeding goals."
Part of the problem arises when women need to get back to work. Federal law requires employers to offer breastfeeding moms break-time, but fewer than half of organizations surveyed by the Society for Human Resource Management in 2018 provided an onsite "lactation/mother's room."
"Creating a lactation room does not have to be expensive or complicated," said Cheri Hoffman, the Mom & Baby Brand Manager at Aeroflow Healthcare, a breast pump manufacturer.
The company recently paid for a lactation room makeover at Joint Base Charleston. The first-ever "Pumping Room Makeover" contest received more than 550 entries, according to a press release. Aeroflow selected Joint Base Charleston as its winner to "raise awareness around the benefits of supporting breastfeeding moms in the military community." The makeover, complete with new furniture, room accessories and breastfeeding artwork, was unveiled on Friday.
Gagnon said the room was always "very comfortable" when she used it to pump and to nurse Aiden last year, but admitted it was due for a little "sprucing up."
Still, she praised the military and Joint Base Charleston's child care center for making her experience such a positive one. While Aiden now drinks whole milk and Gagnon doesn't use the lactation room anymore, it was a key to her success last year at breastfeeding for so long.
The CDC called breastfeeding support at work sites "critical" for new moms.
"It was harder for me to stop more than anything," Gagnon said.
Source link